---
Helena de Medeiros
Portugal - Painting
---
Helena de Medeiros (Oporto, Portugal) studied at The London Fashion School and at Escola Superior de Artes e Design do Porto (ESAD).
Since 1990 the artist held individual exhibitions of painting and many of her works are in private collections and municipal collections
In Portugal, a country of origin of the artist, she has exhibited in many regions, as Lisboa, Porto, Viseu, Amarante, Guimarães, Trás-os-Montes.
"Linee Artistiche a Confronto" (Galleria La Pigna/UCAI, Vatican/Rome, March/2013); "Contemporary Art Catalog 2013 - Metropolitan Museum Art" (New York, Thomas J. Watson Library); "Outro Retrato" (Museum Abel Salazar, Oporto, January/2013); "Arte Padova 2012" (Padova, November/2012); "Golden Dust" (Franchini's Gallery, Oporto, July/2009) collect some of her recent works. The artist also participating in the project "Ghosts in Armour", itinerant collective exhibition: Bilbao Art Fundazioa, Spain, June/2010; The Riverfront Art Gallery, Newport, Wales, UK, Sep/Oct 2010; European Parliament and The Welsh Assembly Government EU Office, Brussels, Belgium, March/2011; The Santa Fe Complex, Santa Fe, New Mexico, USA, May/2012.
Besides painting, Helena de Medeiros works as a costume and a set designer for contemporary ballet, cinema, theatre and opera. Over the past years, she has collaborated throughout the world with prestigious ballet companies: Ballett Basel (Switzerland), Ballett Dortmund (Germany), Ballet Gulbenkian (Portugal), Ballett Hannover (Germany), Companhia Nacional de Bailado (Portugal), Fondazione de la Danza Aterballetto (Italy), Gauthier Dance / Dance Company Theaterhaus Stuttgart (Germany), Les Grands Ballets Canadiens de Montréal (Canada), Les Ballets Jazz de Montréal (Canada), National Ballet of China (China), Teatro di San Carlo (Italy), Teatro Municipal Santiago de Chile (Chile).
---
---
---
---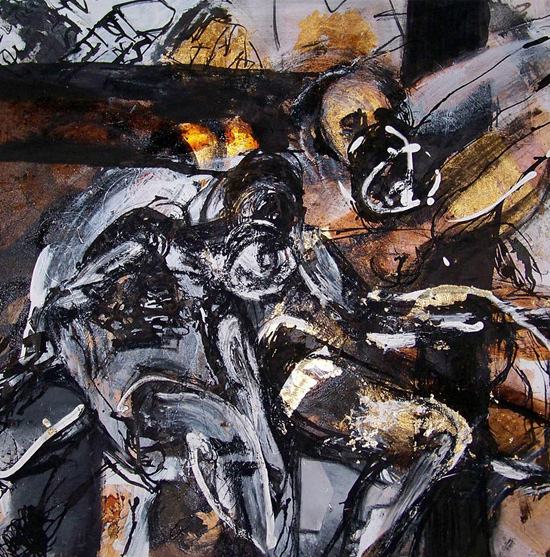 ---
---
---